Not a good day for Euro PMIs & Brexit
SUMMARY
August flash PMIs for France, Germany and Eurozone all miss expectations.

UK PMIs beat, but completely overshadowed by negative Brexit updates

.

Risk off flows evident into NY trade with USD broadly bid. EURGBP bounces.

EURUSD loses 1.1830s. GBPUSD plunges back below battleground 1.3120-30s.

Large option expiries in play for AUDUSD and USDCAD. USDJPY trading mixed.

All eyes now on S&P reaction after this morning's negative macro soundbites.



ANALYSIS
USDCAD
It was very much a disappointing day for recent USDCAD buyers yesterday as the market couldn't benefit from some early morning risk-off flows following weaker than expected US jobless claims and Philly Fed data. Instead, chart resistance in the 1.3230s reasserted itself, and a combination of option expiry related buying in EURUSD and some positive sounding COVID-19 vaccine headlines from J&J then sparked a broad selloff for the dollar.
Almost all of this misguided vaccine optimism has been rightly reversed in overnight trade today following some poor European flash PMI data for August and some rather depressing Brexit updates out of chief negotiators Barnier and Frost. Euro/dollar has plunged down to its next support level in the 1.1760s after spiraling below yesterday's pivot in the 1.1830s. Sterling has imploded and totally reversed its 100pt surge from yesterday, which has now refocused trader attention on yesterday's pivotal battleground in the 1.3120-30s. The S&Ps, October WTI, precious metals and bond yields are all sliding in reaction to this morning's negative macro soundbites and the risk currencies (AUD & CAD) are looking vulnerable.
Canada just reported a 23.7% jump in Retail Sales for the month of June, but the market is ignoring this data set as usual of late because it's stale in the context of a new, fast-moving COVID-19 world and we all know that the Canadian economy rebounded further as it continued reopening efforts in June. Keep an eye out for over $1.4bln worth of USDCAD options expiring at the 1.3250 strike at 10amET morning, as it could finally tempt a clean break above the 1.3230s.

USDCAD DAILY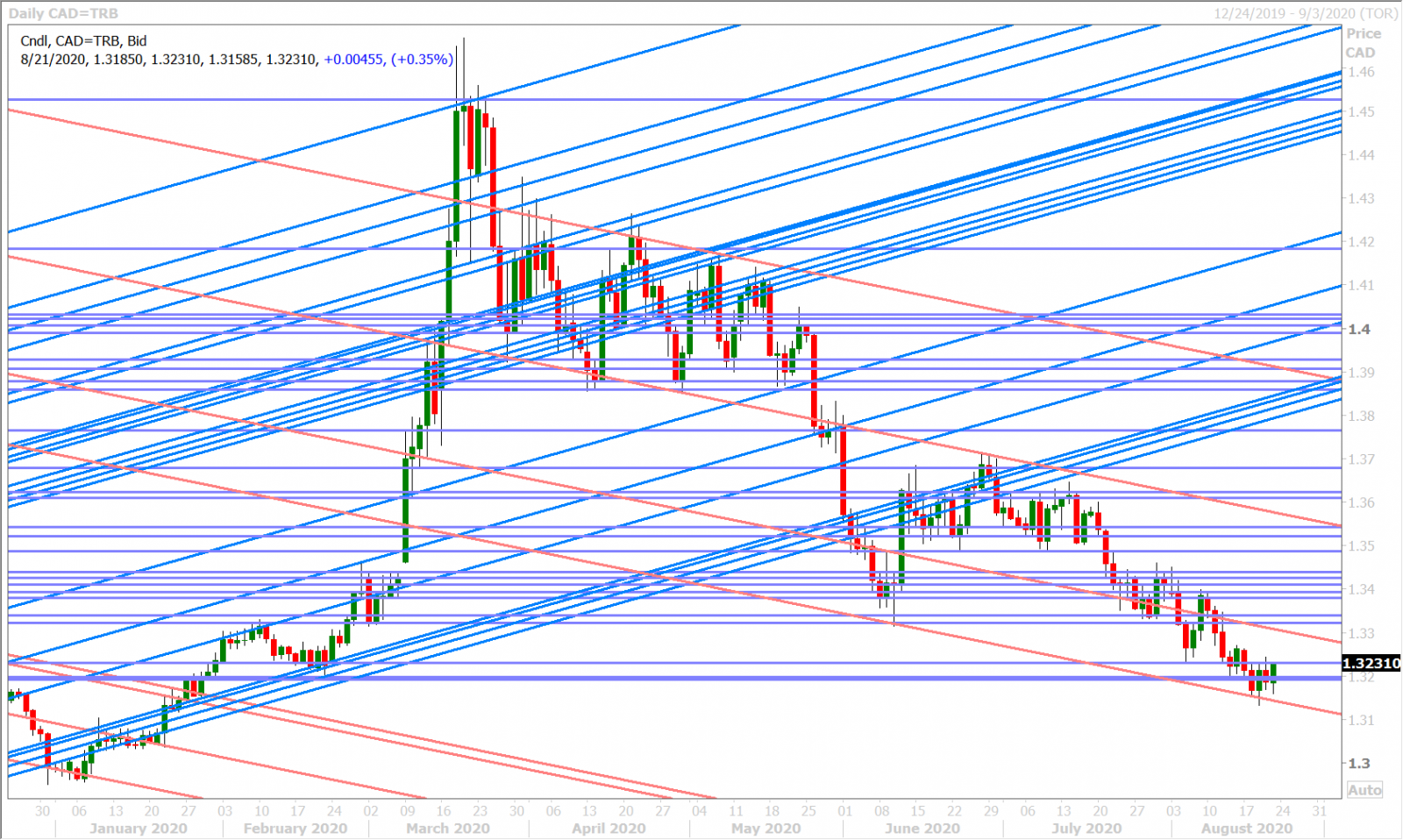 USDCAD HOURLY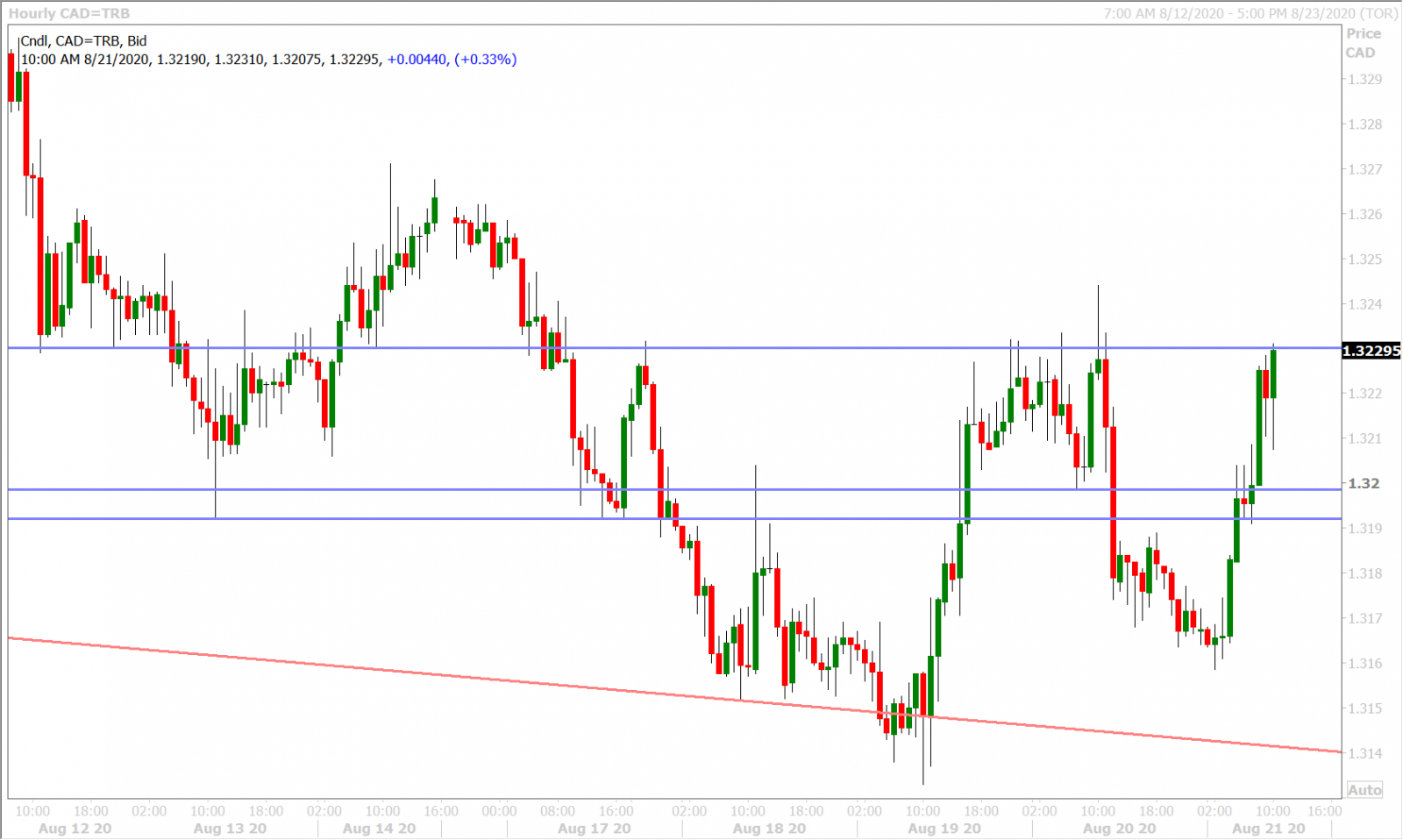 OCT CRUDE OIL DAILY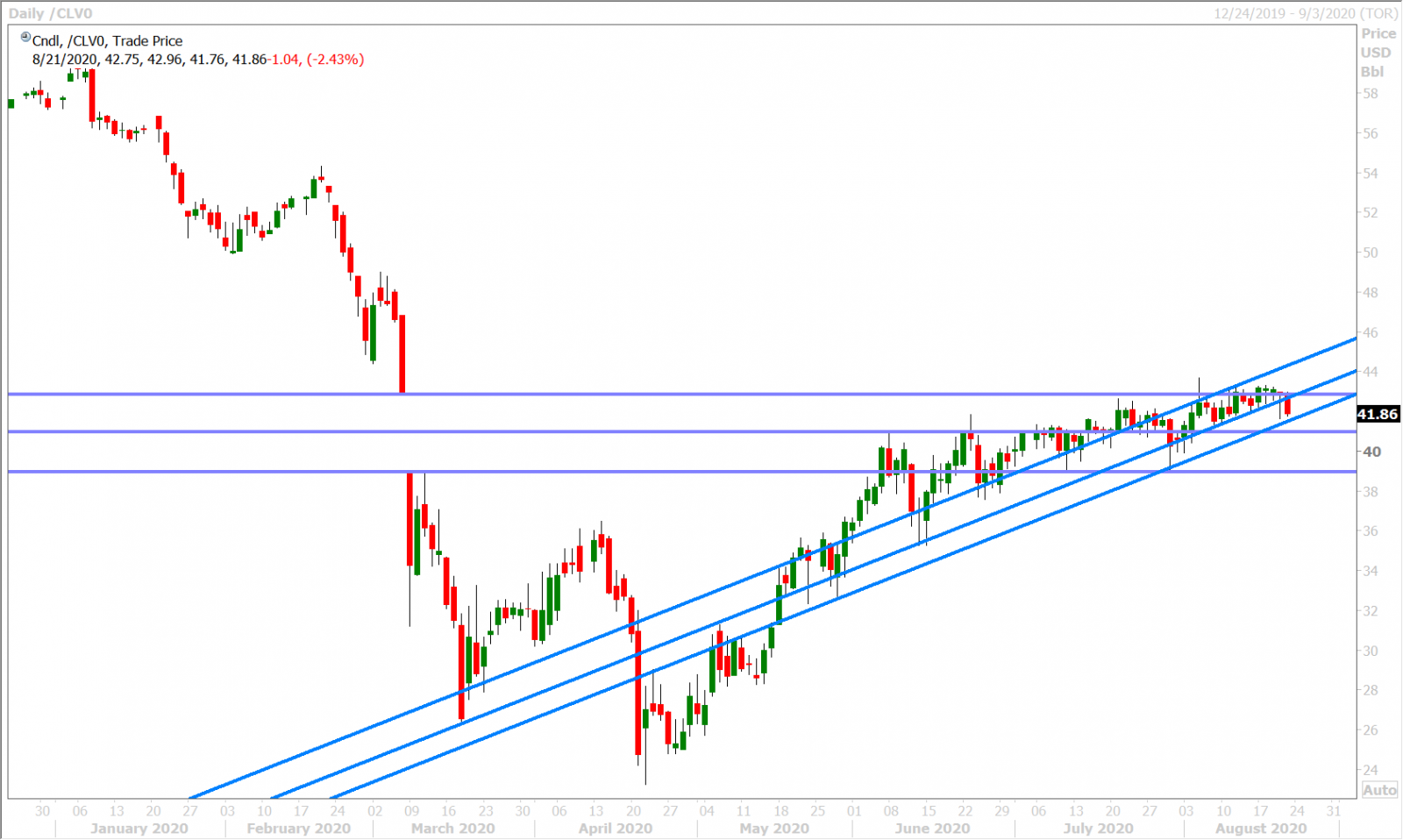 ---
EURUSD
Euro/dollar traders are re-focusing on fresh European business sentiment for a change this morning and the data is not moving in the right direction anymore. After bouncing back smartly over the last couple months with reopening efforts following the worst of the pandemic lockdowns throughout Europe, today's flash PMIs out of France, Germany and the Eurozone were all reported lower than expected for the month of August (details below). This likely reflects the deteriorating COVID-19 situation in Europe over the last couple weeks and now introduces a new variable to the consensus long EURUSD trade that has been pinning its hopes on further Fed accommodation of late.
We think it's likely we'll see a new record long position from the leveraged funds in this afternoon's weekly COT report, given that the reporting period ended on Tuesday when the market broke to new swing highs above the 1.1910s…and we believe this could put renewed focus on stretched EUR bullishness.

EURUSD DAILY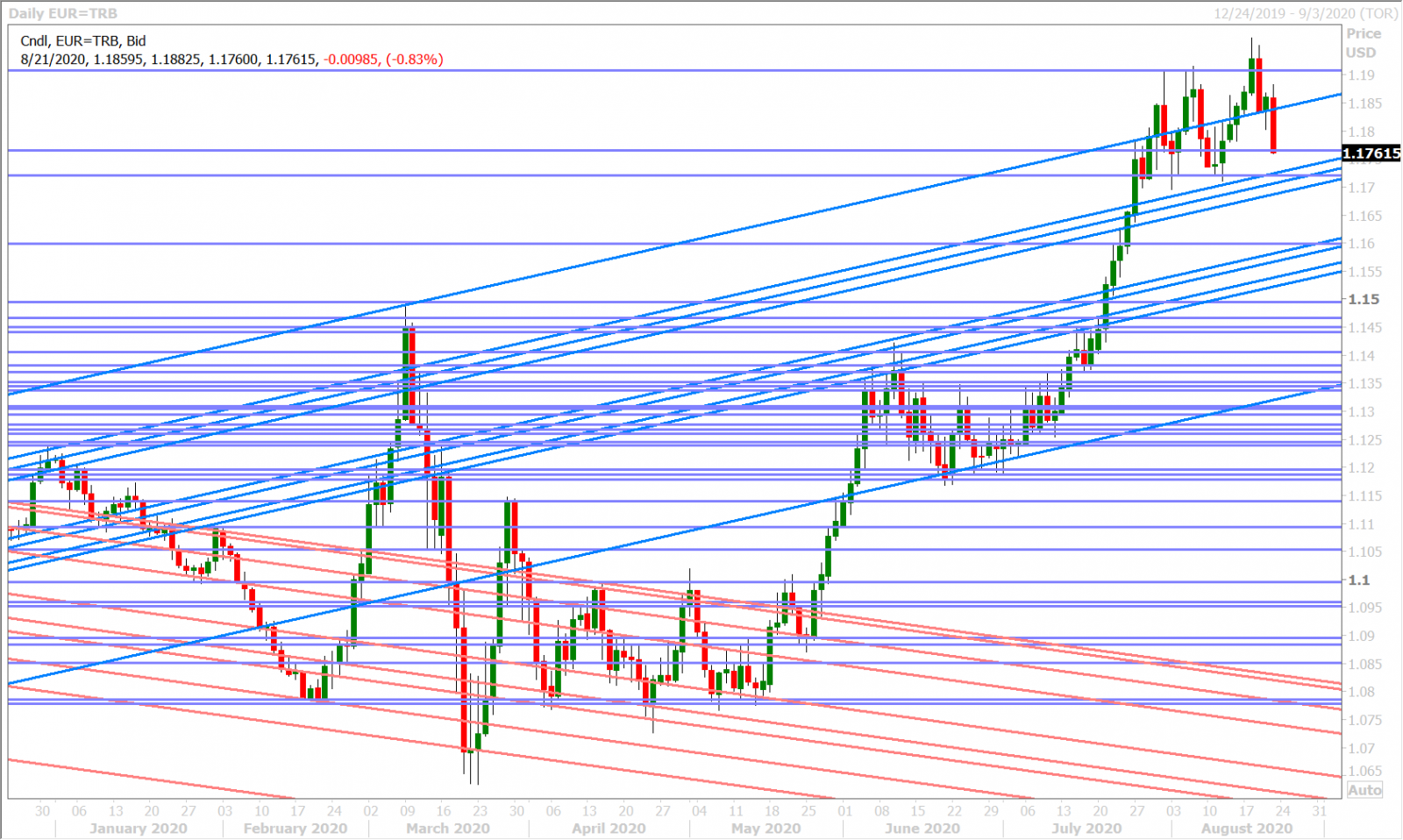 EURUSD HOURLY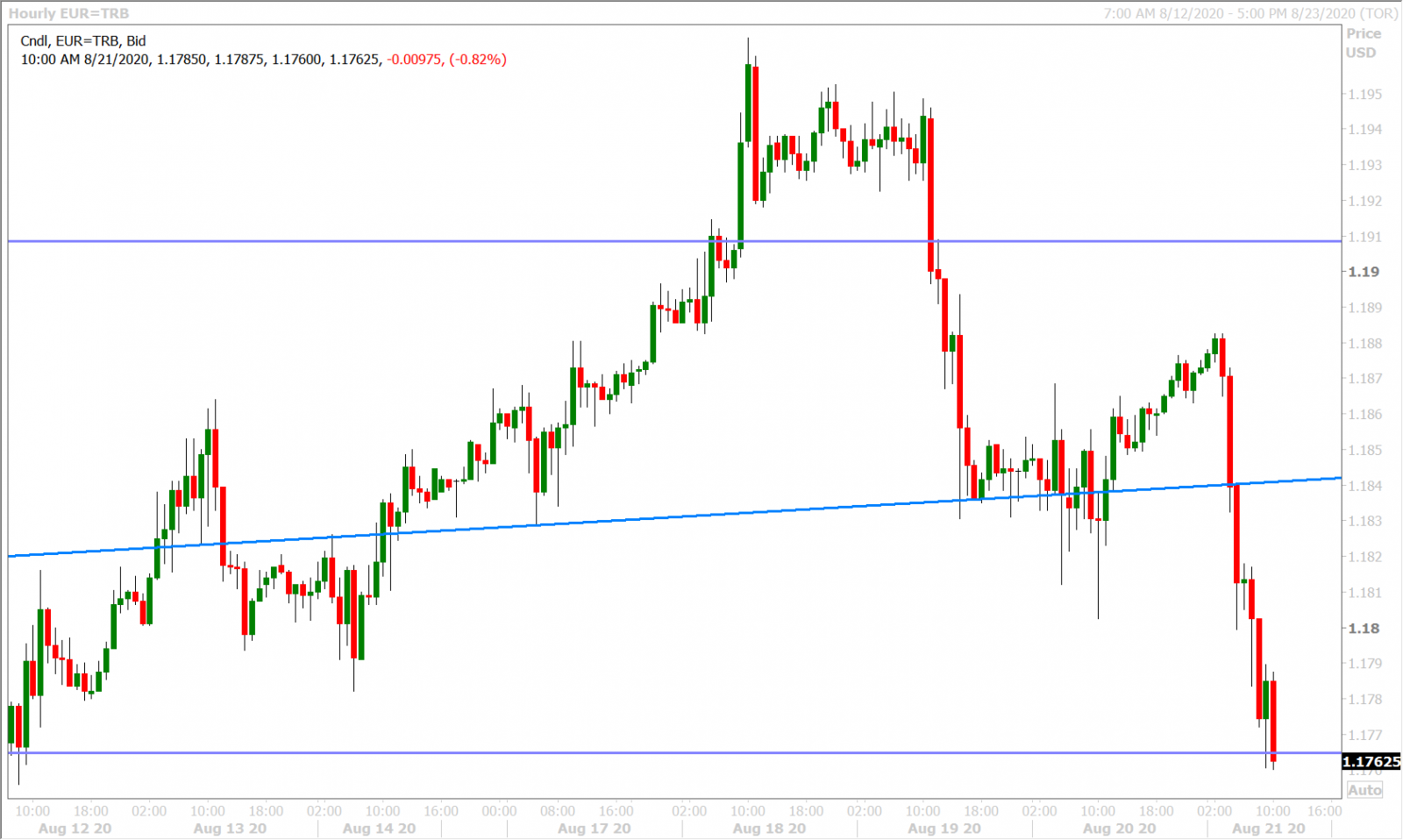 SPOT GOLD DAILY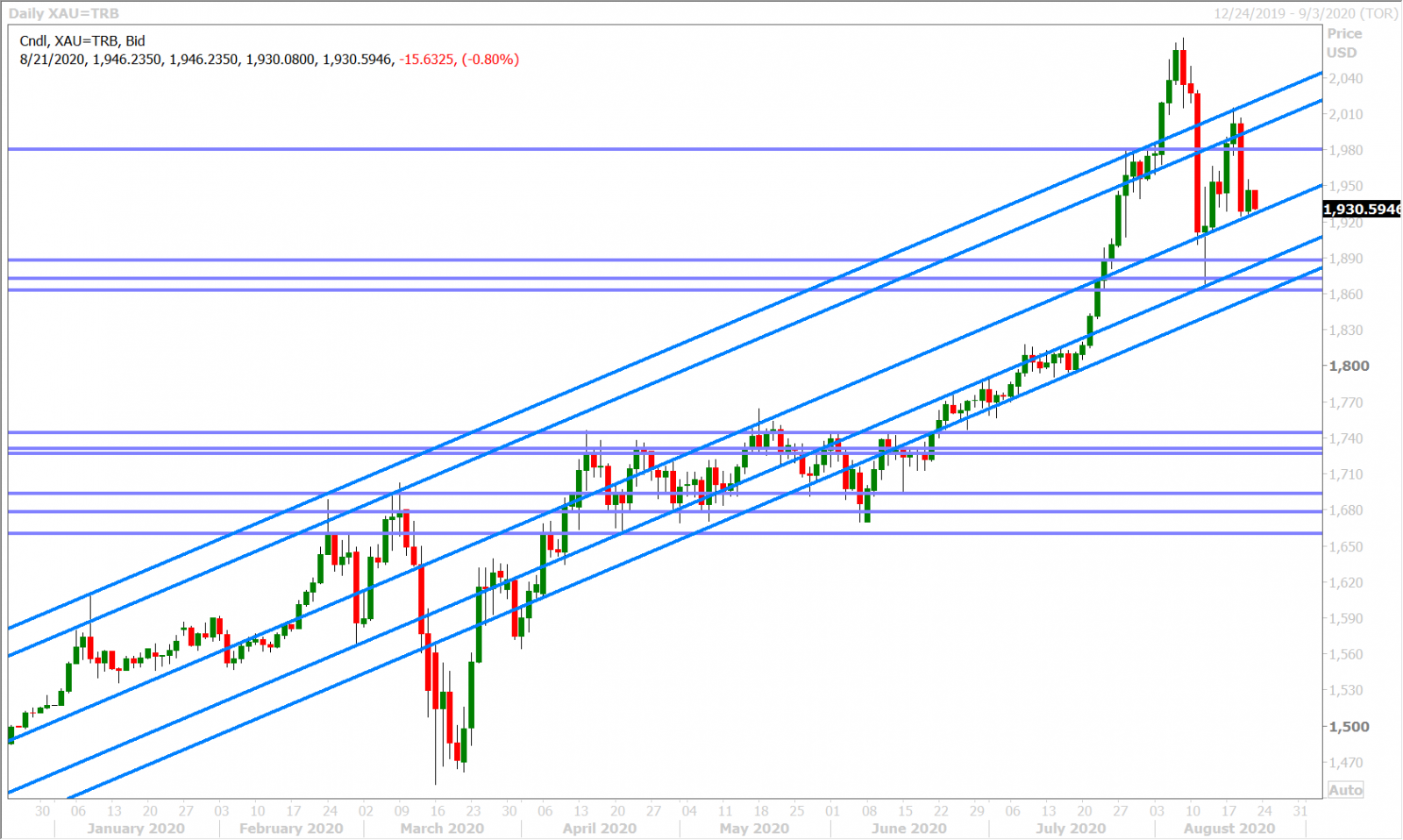 ---
GBPUSD
The August flash PMIs out the UK unexpectedly beat market expectations across the board this morning, but this has been completely overshadowed by the weak business sentiment surveys from the rest of Europe and some rather depressing Brexit updates from the latest round of negotiations this week. See here, from our friends at PoundSterlingLIVE, for a nice summary of what the EU's Michel Barnier and the UK's David Frost had to say.
Sterling/dollar gave up the 1.32 handle on EURUSD selling following the release of the French and German PMIs, and it has now collapsed all the way back below yesterday's contested 1.3120-30 level on strong EURGBP buying following this morning's Brexit headlines. The day is young but the sterling bears have regained the momentum for now.

GBPUSD DAILY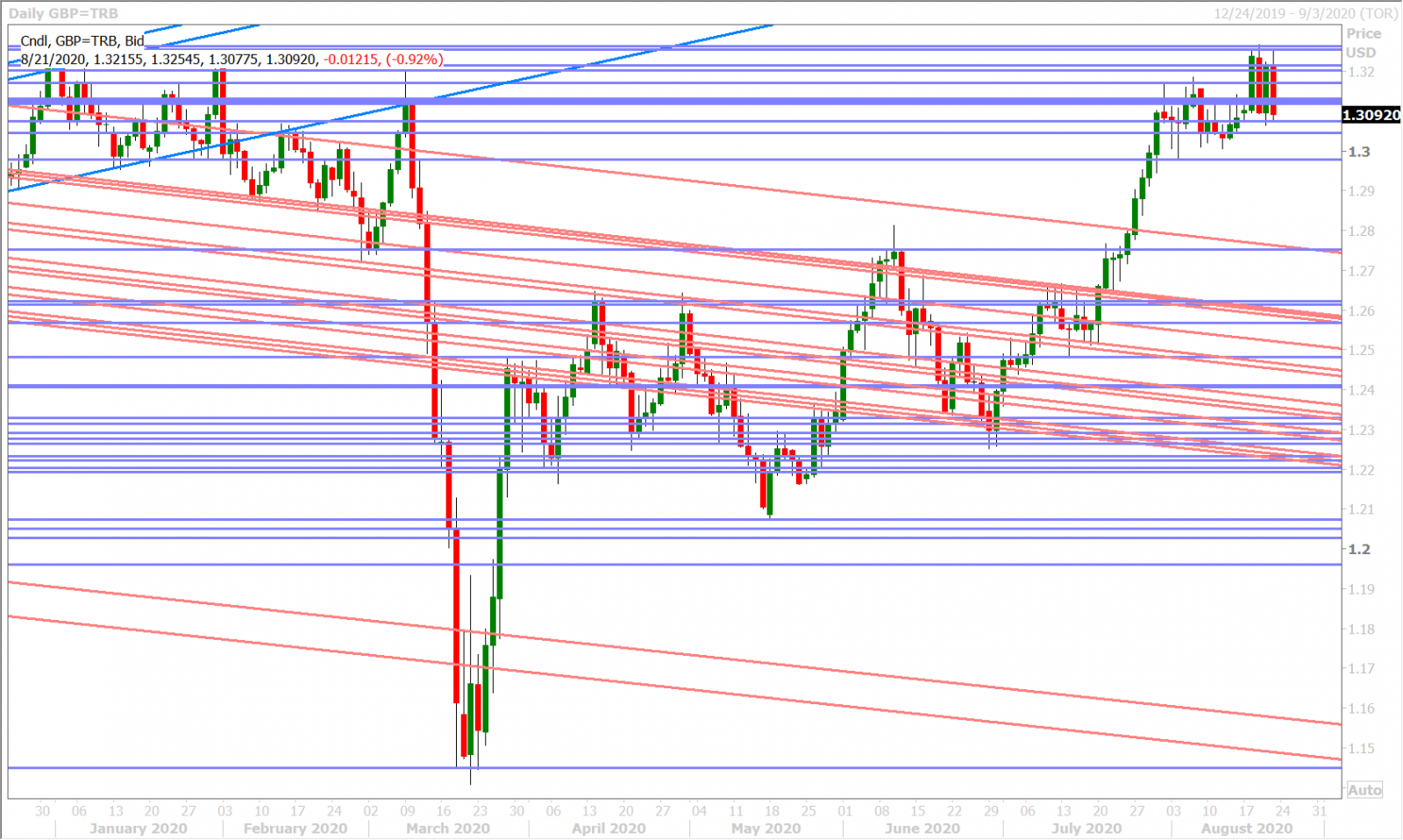 GBPUSD HOURLY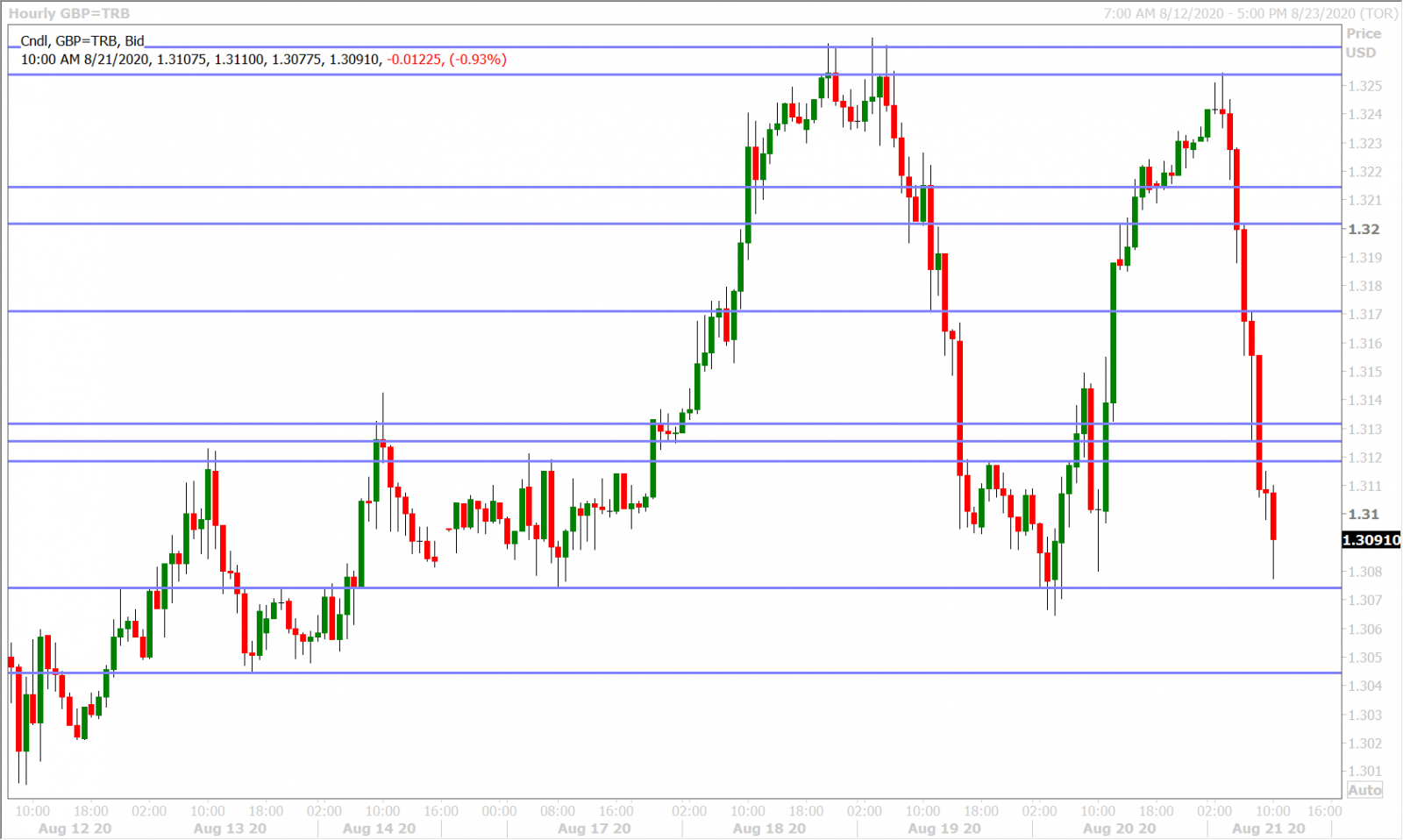 EURGBP DAILY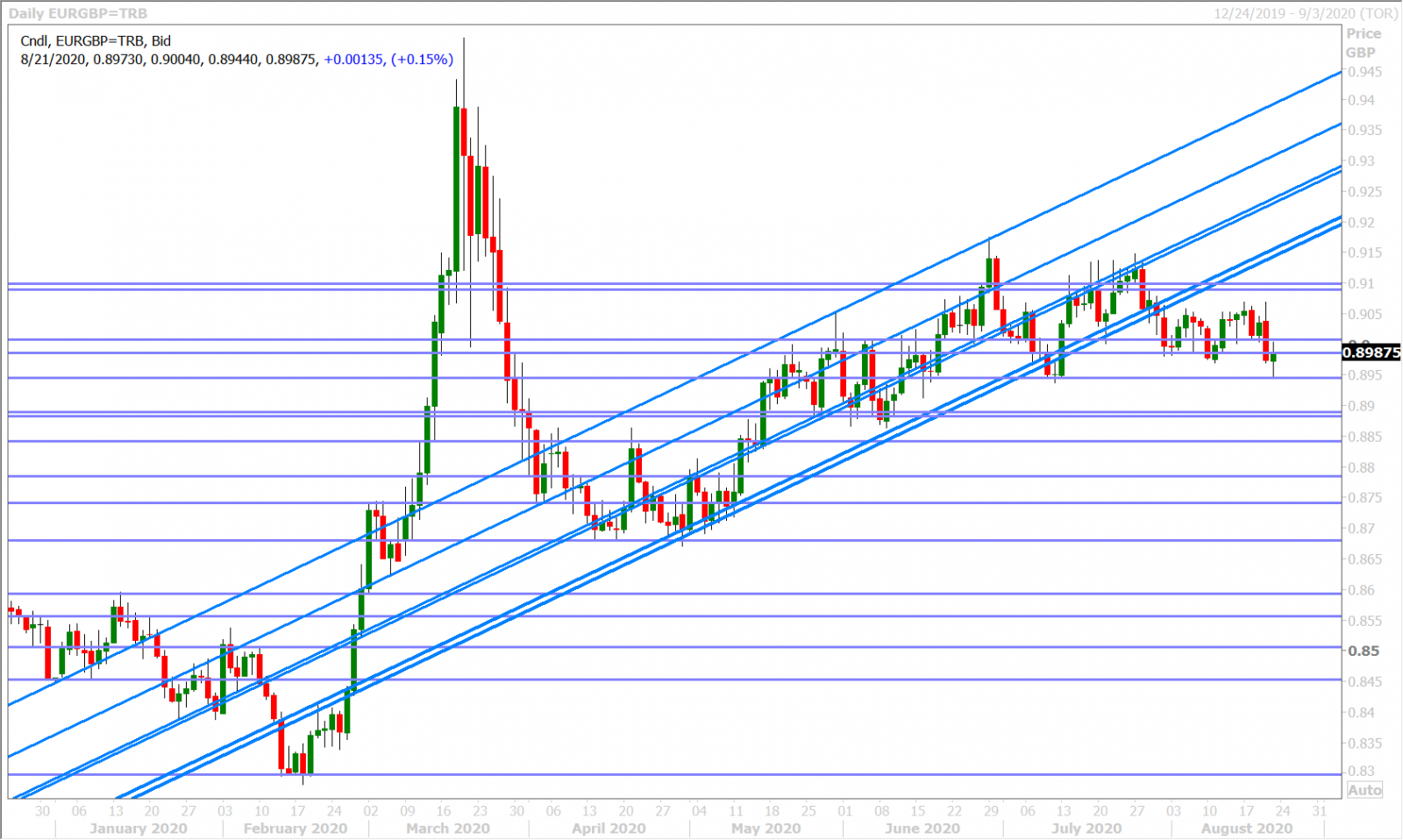 AUDUSD
The Aussie is holding up remarkably well this morning despite the negative PMI/Brexit headlines out of Europe and the risk-off tone that has broadly pressured stock and commodity futures lower as a result. Perhaps this morning's 500mlnAUD worth of option expiries between 0.7150 and 0.7200 are curbing serious sell interest for now?
We think today's US equity market action will be the key driver going into the weekend and we'd be concerned for the recent AUDUSD uptrend if the 0.7130-40s support level were to give way.

AUDUSD DAILY
AUDUSD HOURLY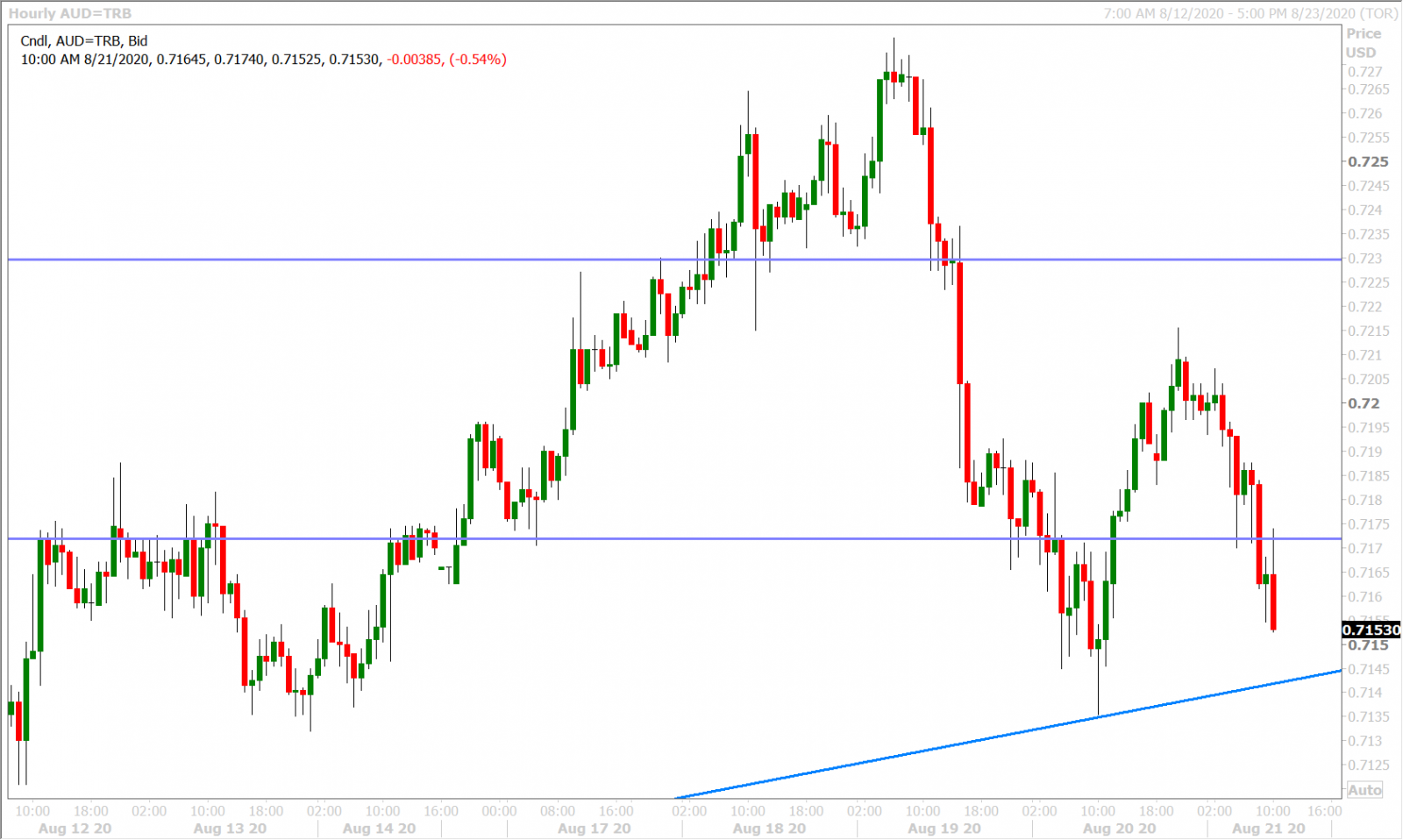 USDCNH DAILY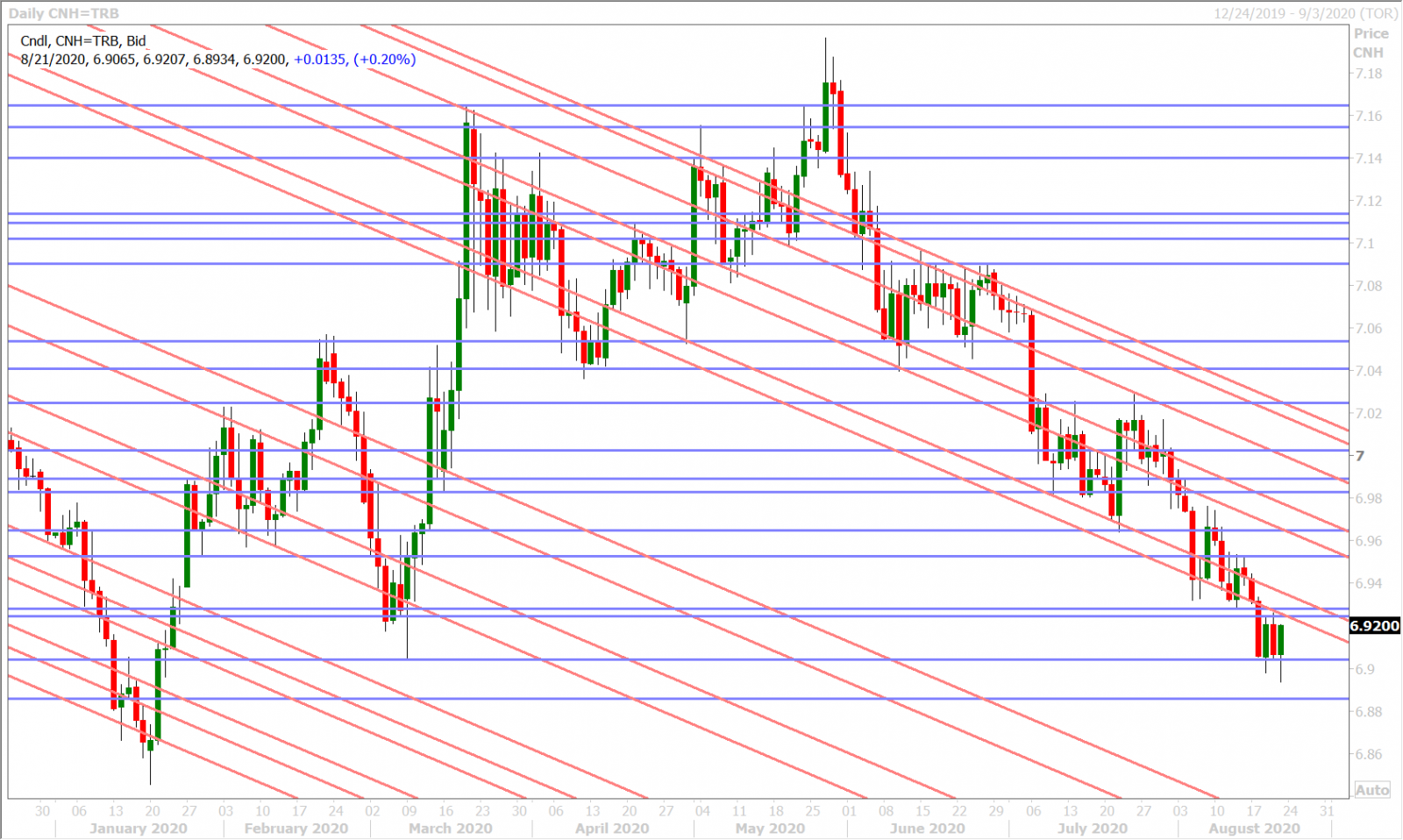 ---
USDJPY
Dollar/yen has been caught in the crosshairs of broad USD volatility and slumping US yields over the last 24hrs, and with that the market is trading close to its opening levels from NY trade yesterday. The momentum has shifted somewhat lower however as yesterday's give-up of the 105.80-106.00 zone was technically negative and because this level is now resisting price action today. We think USDJPY could end the week back above this zone if US 10yr yields bounce a couple basis points today.

USDJPY DAILY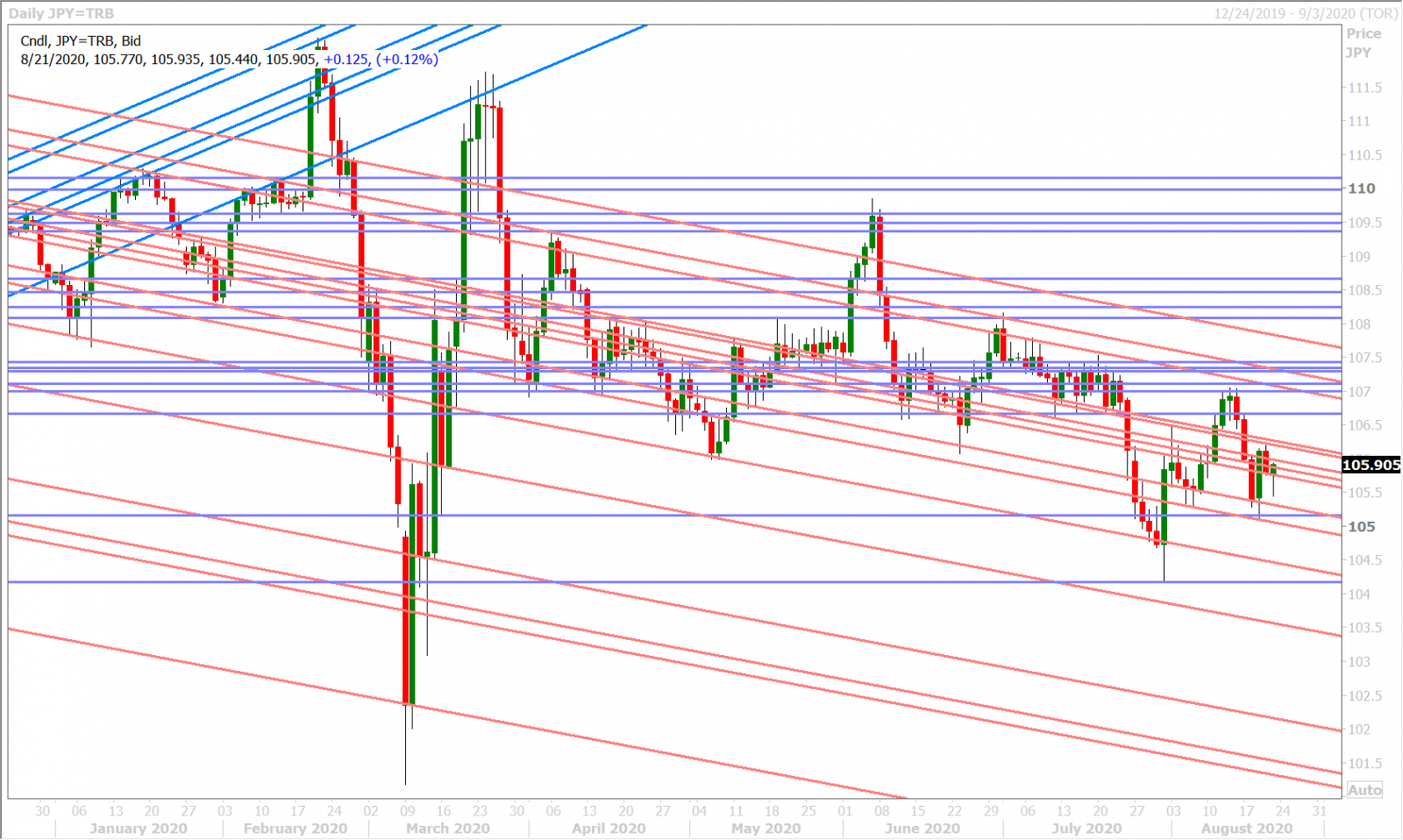 USDJPY HOURLY


US 10YR BOND YIELD DAILY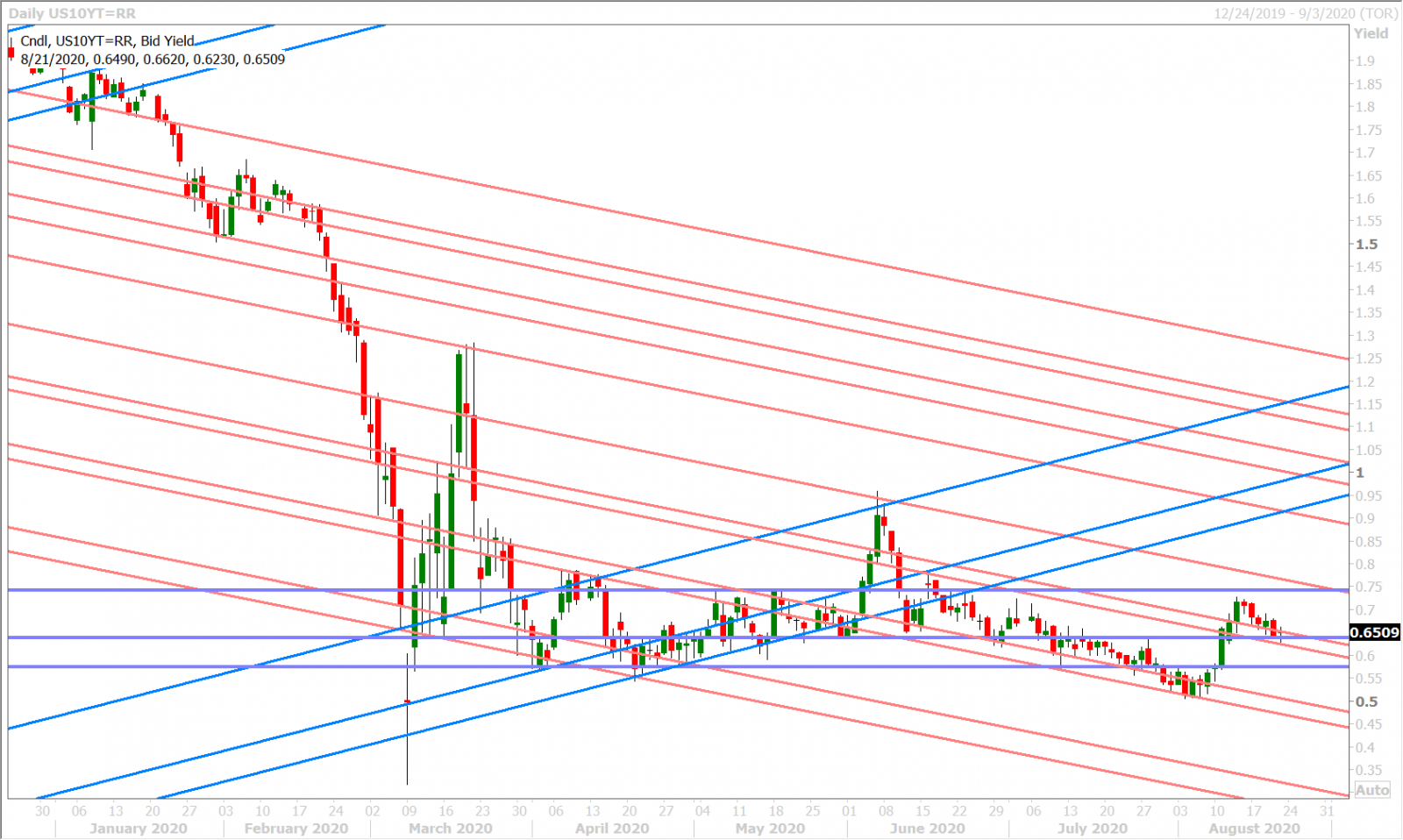 Charts: Reuters Eikon
---
About the Author
About Exchange Bank of Canada
Exchange Bank of Canada, EBC – Canada's Foreign Exchange Bank, is the only Schedule 1 Canadian bank specializing in foreign currency exchange and international payments for financial institutions and corporations. EBC provides innovative foreign exchange management and integrated international payment solutions tailored to meet business needs on a global scale. Leveraging industry leading technology and a client-focused team of experts EBC delivers comprehensive, cost-effective and trusted payment processes and foreign exchange currency solutions to create financial and operational efficiencies. To learn more, visit: www.ebcfx.com.
This publication has been prepared by Exchange Bank of Canada for informational and marketing purposes only. Opinions, estimates and projections contained herein are our own as of the date hereof and are subject to change without notice. The information and opinions contained herein have been compiled or arrived at from sources believed reliable, but no representation or warranty, express or implied, is made as to their accuracy or completeness and neither the information nor the forecast shall be taken as a representation for which Exchange Bank of Canada, its affiliates or any of their employees incur any responsibility. Neither Exchange Bank of Canada nor its affiliates accept any liability whatsoever for any loss arising from any use of this information. This publication is not, and is not constructed as, an offer to sell or solicitation of any offer to buy any of the currencies referred to herein, nor shall this publication be construed as an opinion as to whether you should enter into any swap or trading strategy involving a swap or any other transaction. The general transaction, financial, educational and market information contained herein is not intended to be, and does not constitute, a recommendation of a swap or trading strategy involving a swap within the meaning of U.S. Commodity Futures Trading Commission Regulation 23.434 and Appendix A thereto. This material is not intended to be individually tailored to your needs or characteristics and should not be viewed as a "call to action" or suggestion that you enter into a swap or trading strategy involving a swap or any other transaction. You should note that the manner in which you implement any of the strategies set out in this publication may expose you to significant risk and you should carefully consider your ability to bear such risks through consultation with your own independent financial, legal, accounting, tax and other professional advisors. All Exchange Bank of Canada products and services are subject to the terms of applicable agreements and local regulations. This publication and all information, opinions and conclusions contained in it are protected by copyright. This information may not be reproduced in whole or in part, or referred to in any manner whatsoever nor may the information, opinions and conclusions contained in it be referred to without the prior express written consent of Exchange Bank of Canada.