Silver selloff briefly helps USD, but Fed meeting looms
SUMMARY
Spot silver rallies another 6% in Asia, then crashes 15% into Europe.

Broader USD bounces, but dovish Fed bets not folding just yet.

Fed extends emergency lending programs though to end of year.

Risk sentiment takes a knock, lifting USD once again into NY trade.

GBPUSD appears to trip buy stop orders above the 1.2900 figure.

USDJPY following global bond yields lower since the European open.



ANALYSIS
USDCAD
Dollar/CAD was under pressure for most of yesterday's trade as the rally in precious metals didn't show serious signs of abating and as September WTI oil prices recovered into the NYMEX close. An afternoon rally for US tech stocks seemed to help the latter, along with chatter that Mexico had not yet started executing trades connecting to its annual oil hedge (after Reuters reported they were asking banks for quotes late last week). All this saw USDCAD slip below the 1.3380-90s support into the NY close.

It was all about precious metals again in Asia last night as spot silver surged another 6% higher onto a $26 handle and as spot gold extended its record breaking run by another 2% to trade at $1980…but all this unraveled spectacularly around the midnight ET hour with silver prices crashing 15% from their session highs! There wasn't a particular headline behind the position liquidation but we noted a reluctance on the part of USD bears to push the market lower during the 7pm-11pmET precious metals ramp (1st warning) and yesterday's lingering thought of silver's run, in particular, potentially coming to end going into Wednesday's futures contract expiry for July (2nd warning). See here. When all was said and done, European traders were looking at a blow-off top for silver, and a broadly stronger USD as a result, when they walked in this morning.

There wasn't much follow-through momentum behind the USD's bounce in Europe as it appeared traders weren't willing to completely abandon dovish bets ahead of tomorrow's FOMC meeting, but some of it is returning now following the broader market's negative reaction to the Fed extending its lending programs (more below). Dollar/CAD is now trying to hold the 1.3380-90s level; the familiar chart support it lost yesterday but regained overnight.

USDCAD DAILY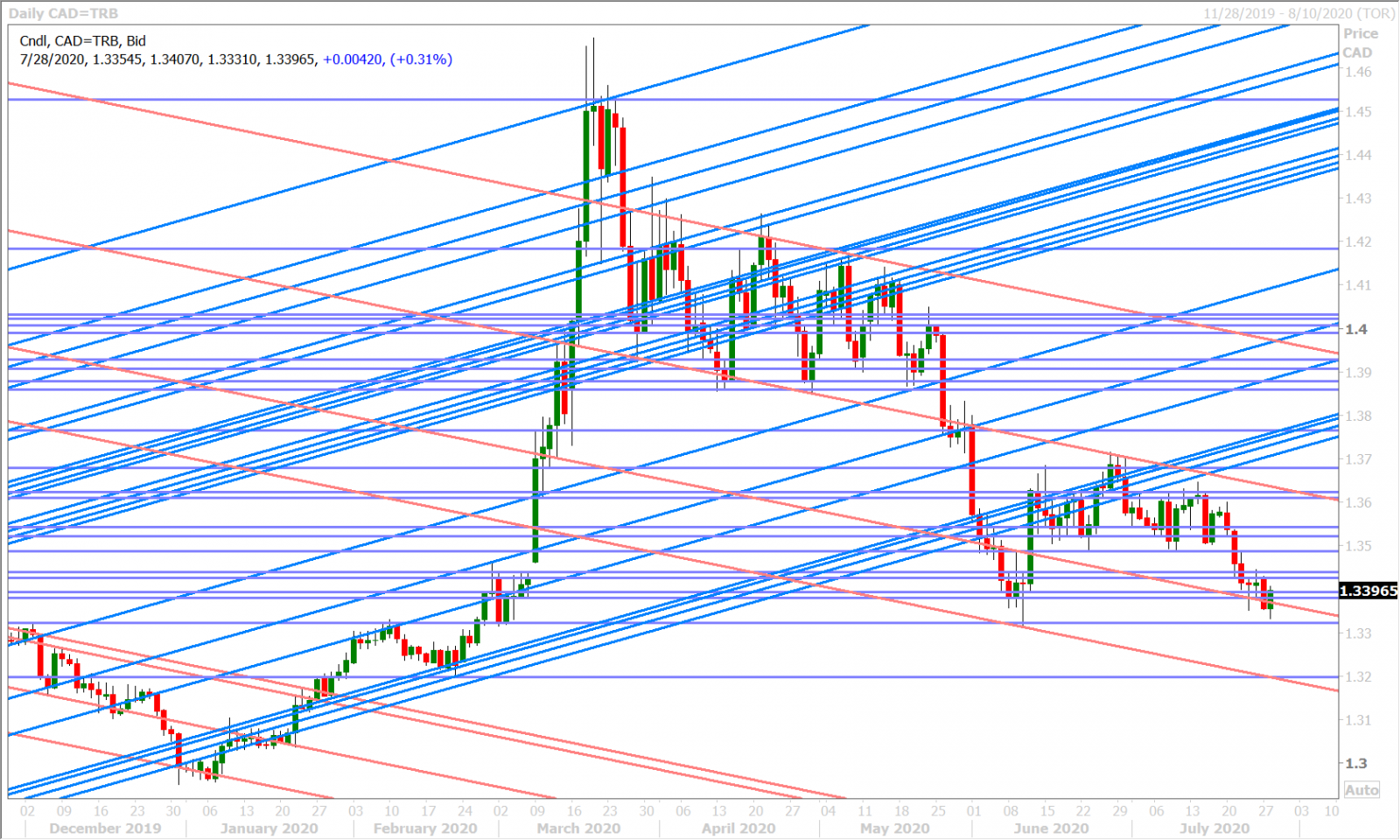 USDCAD HOURLY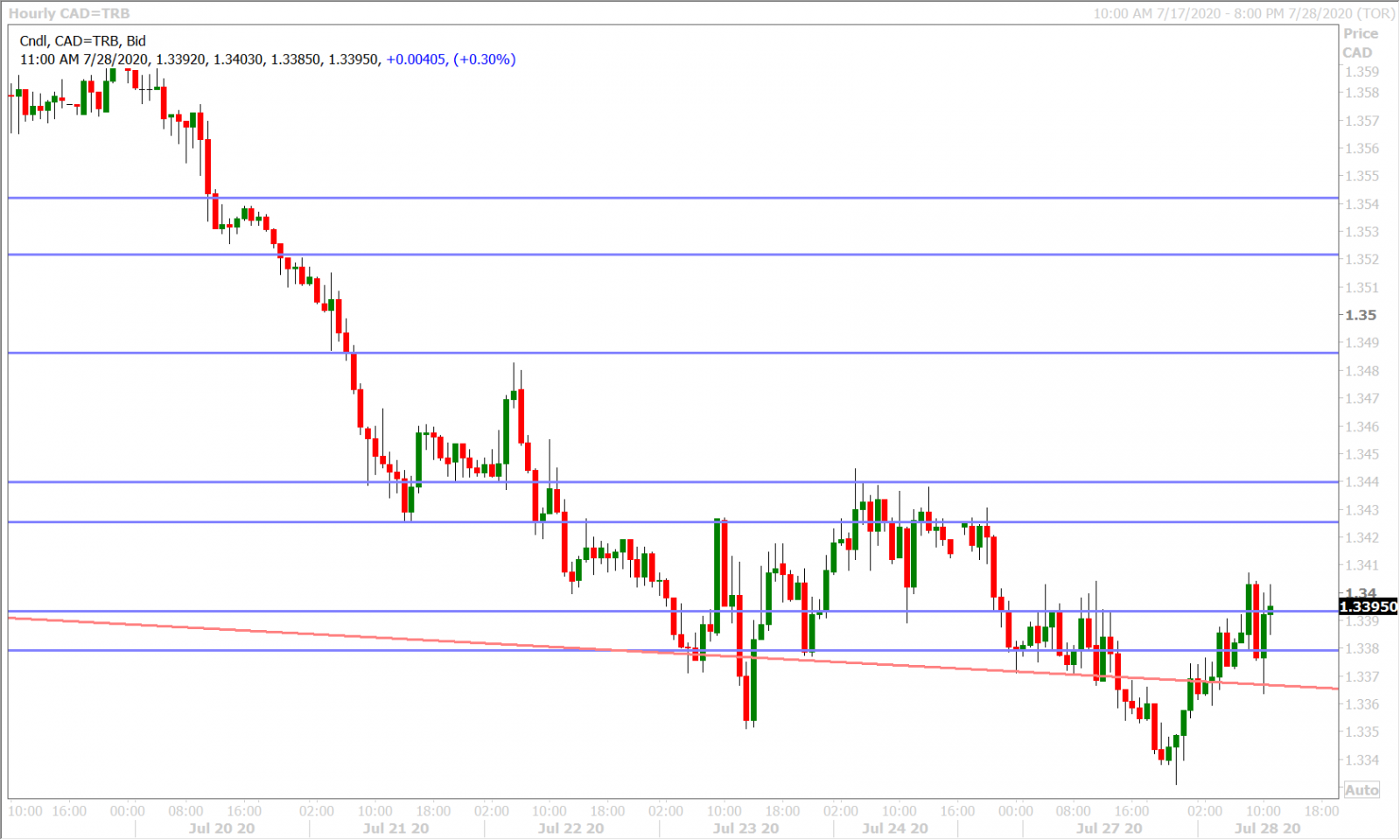 SEP CRUDE OIL DAILY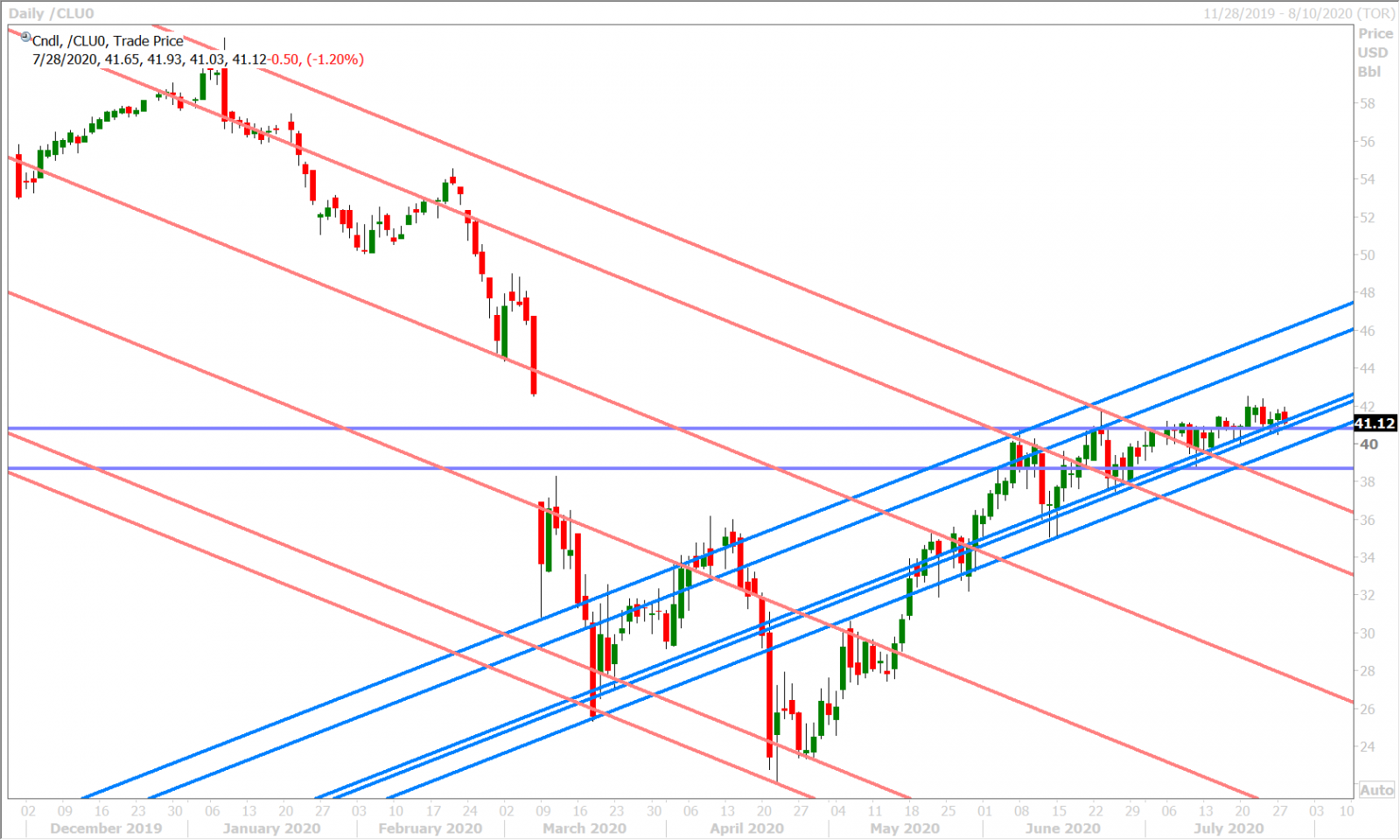 ---
EURUSD
Euro/dollar's struggle with the 1.1760s resistance level yesterday was a negative precursor going into last night's silver-driven pullback, but it appeared traders in Europe didn't want to get rid of their bearish USD bets this morning as the FOMC looms large for tomorrow.
The Fed just surprised markets after the NY open however with an extension of its emergency lending programs through to the end of the year, and we think the fact that they couldn't wait until tomorrow's meeting to make the announcement is what's hitting risk sentiment at this hour. See here. Is the Fed trying to bolster risk sentiment ahead of negative soundbites tomorrow?

EURUSD DAILY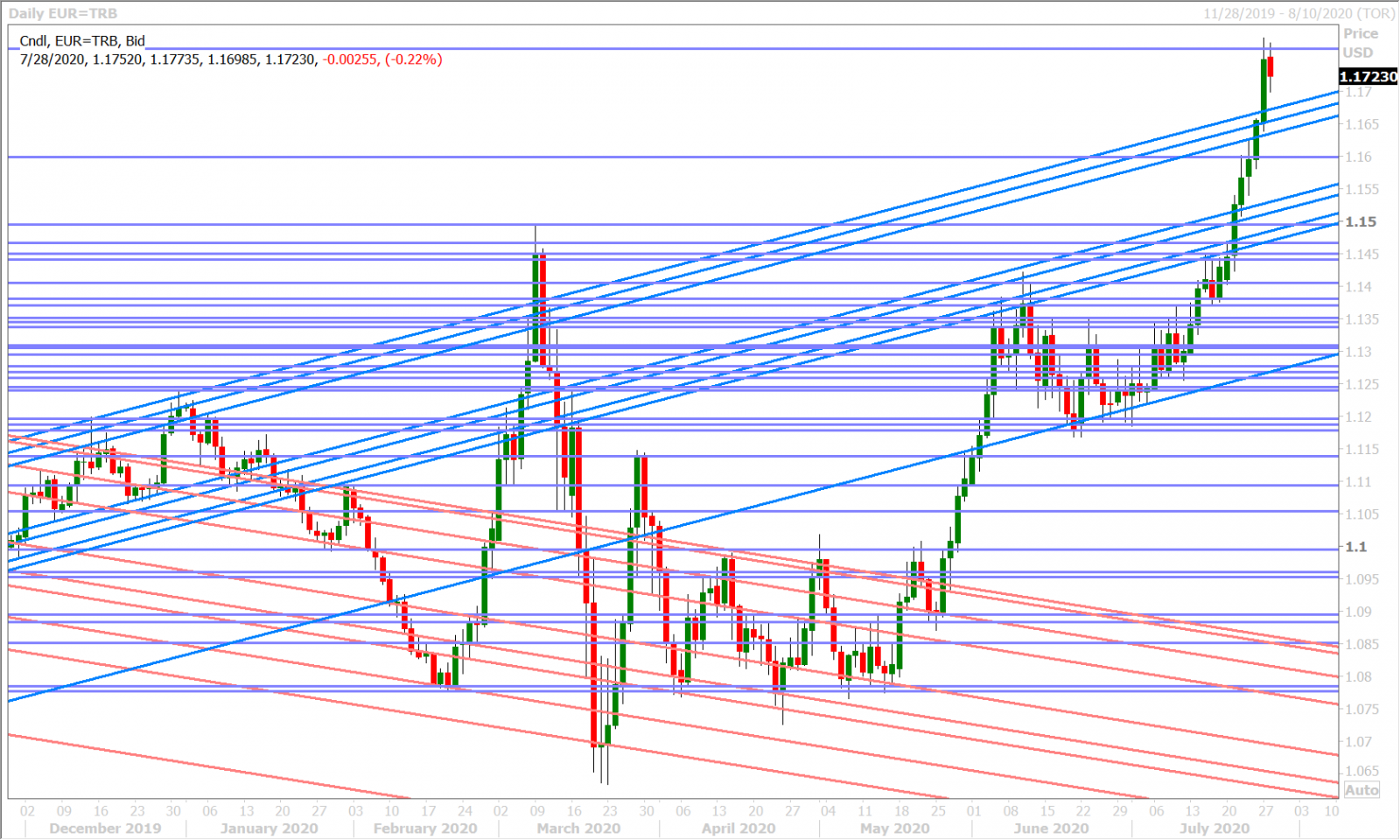 EURUSD HOURLY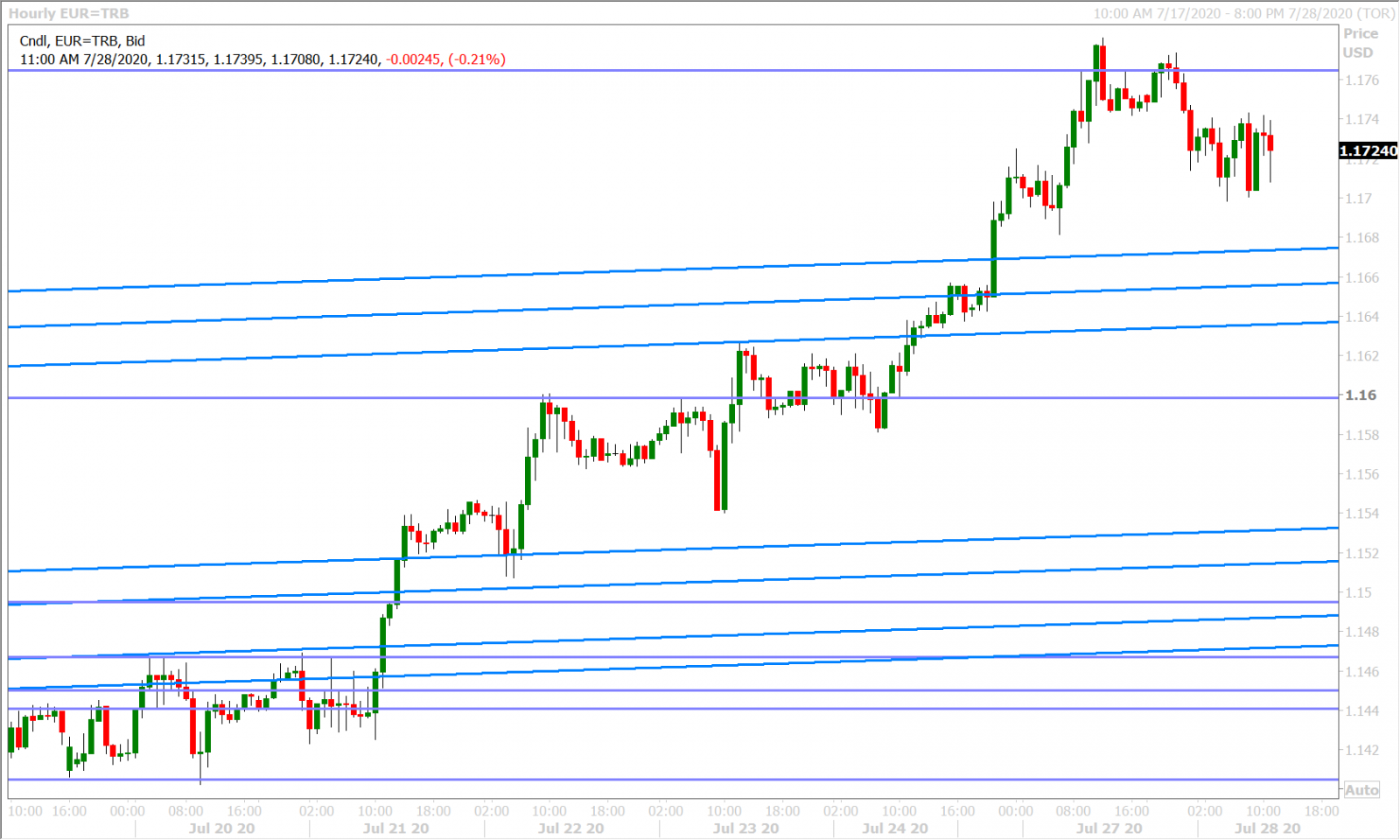 SPOT SILVER DAILY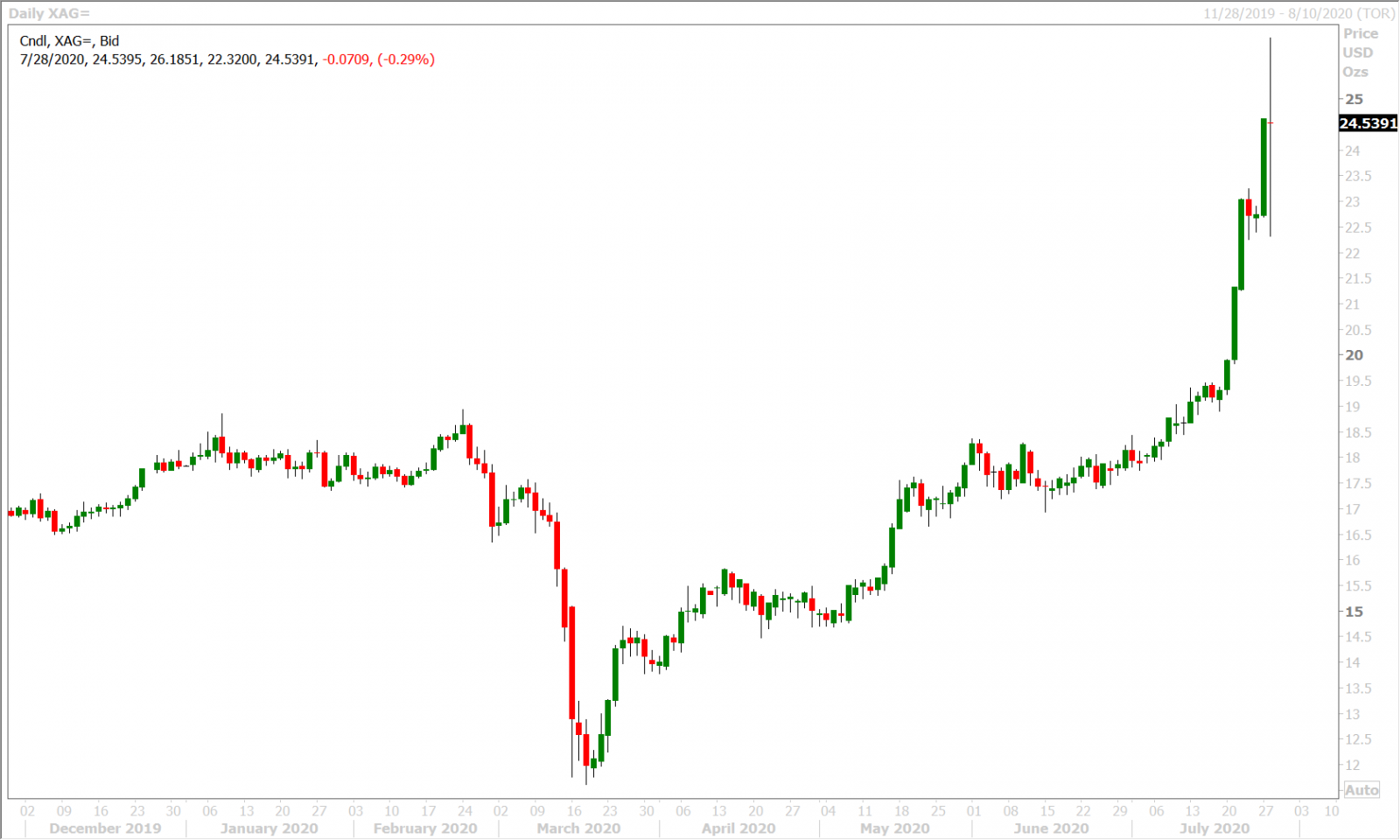 ---
GBPUSD
Sterling also saw some selling when silver prices crashed last night, but traders have completely shaken off the move and are now reacting (perhaps overreacting) to the Fed's announcement to extend its lending facilities. Yes this is dovish news when it comes to US monetary policy, but broad risk sentiment (+ the other risk currencies CAD & AUD) have down-ticked since the news broke and so we wonder if some buy stops simply got triggered above the 1.2900 figure or if there's positive Brexit chatter making the rounds .

GBPUSD DAILY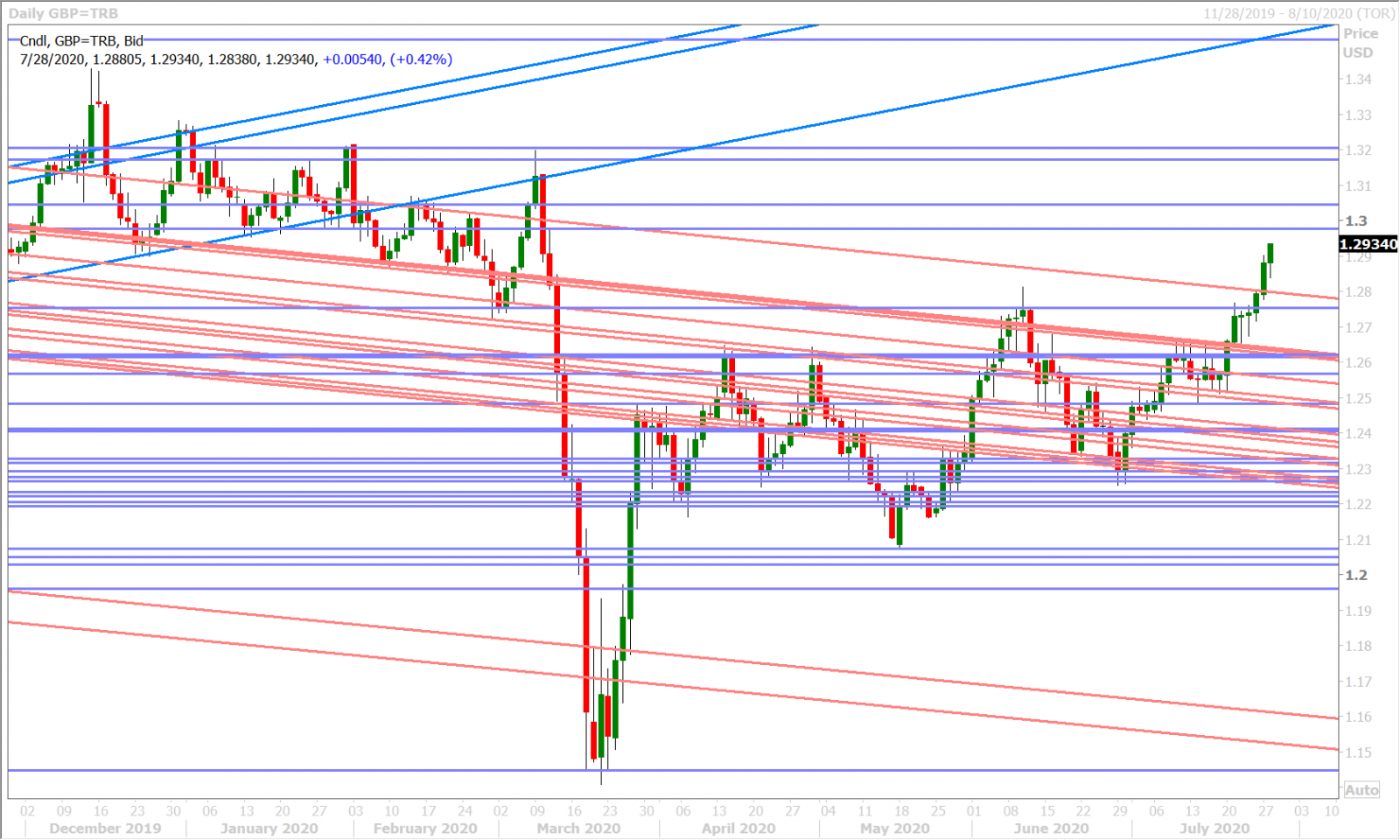 GBPUSD HOURLY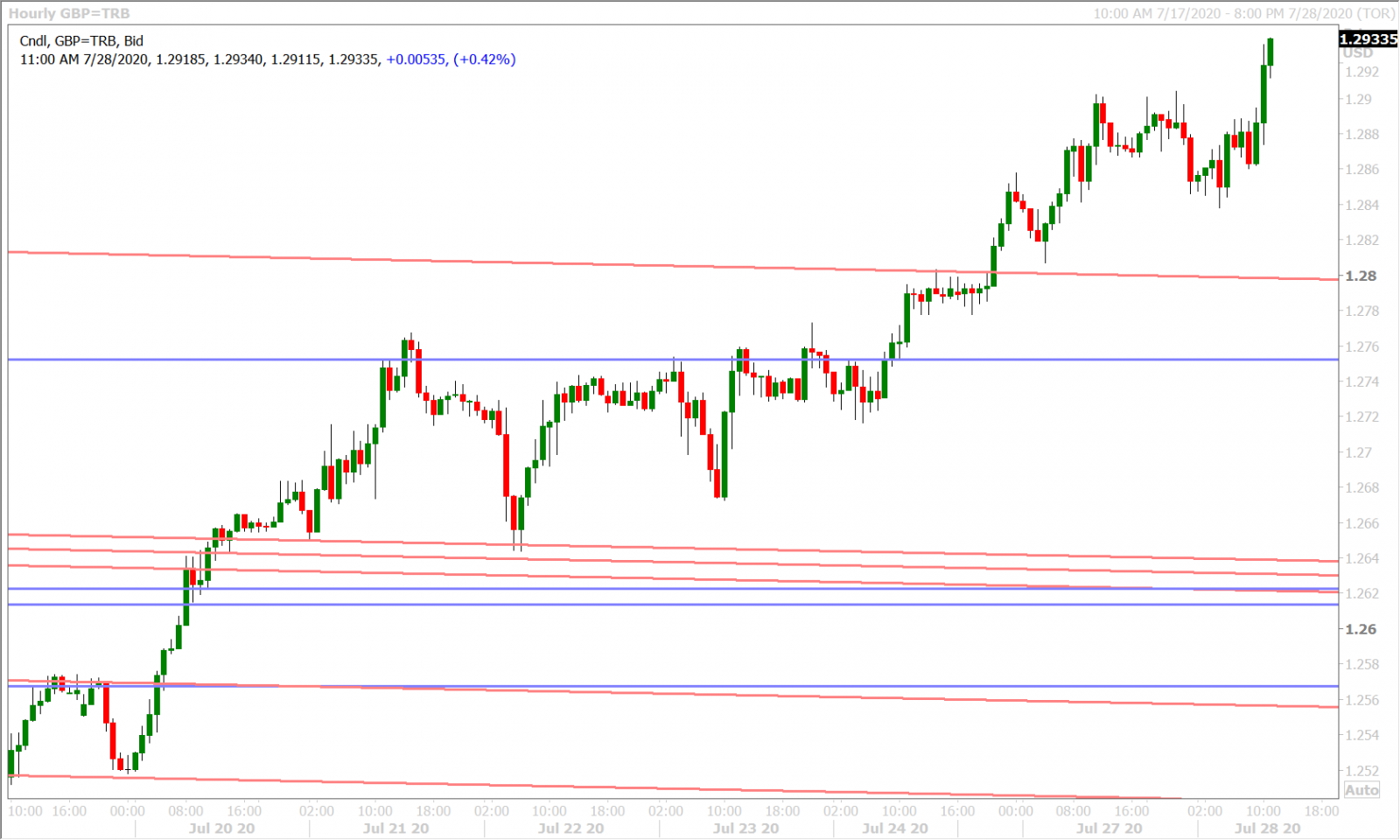 EURGBP DAILY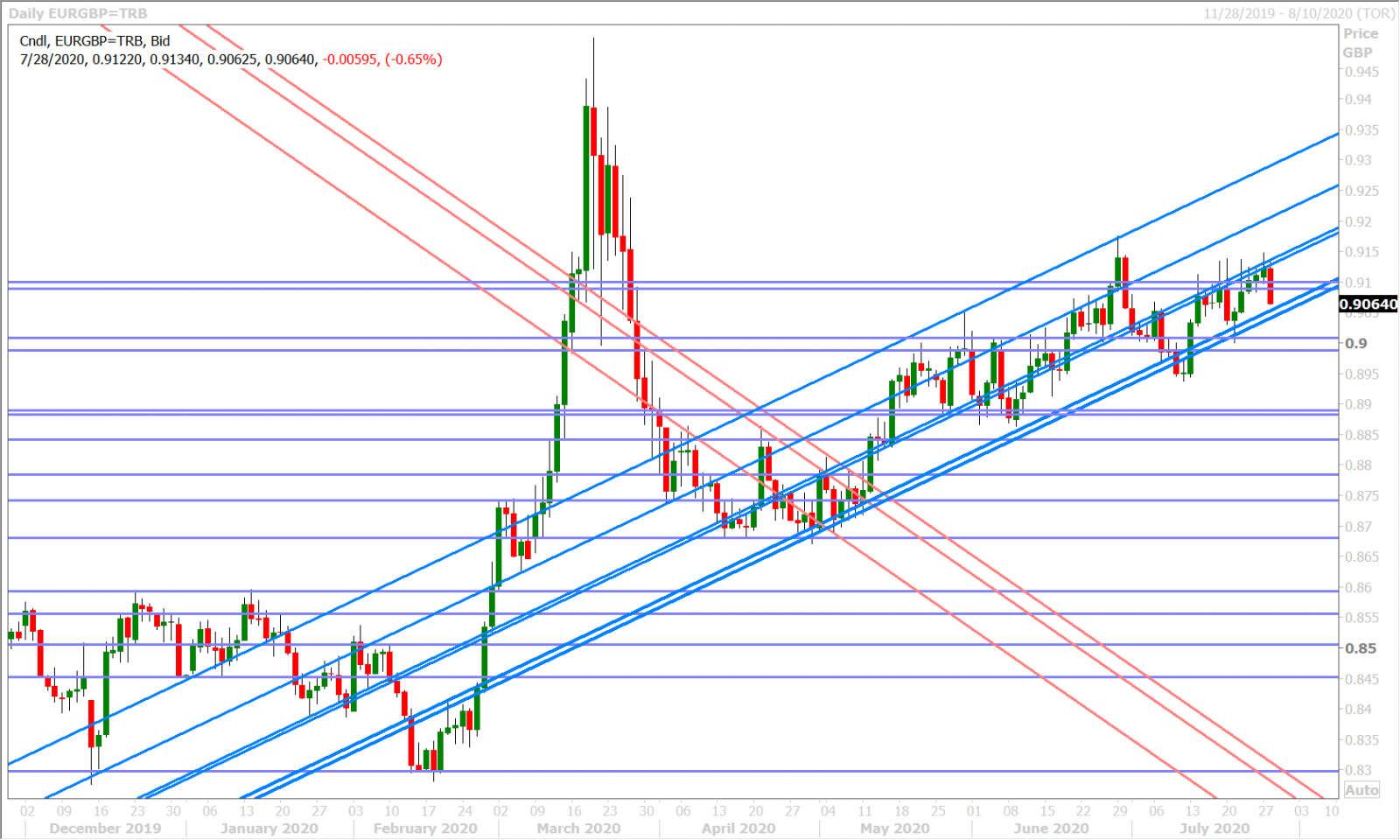 AUDUSD
It's been a choppy 24hrs of trade for the Australian dollar. Yesterday's drift higher continued into Asia when silver prices surged another 6% higher; this turned into a 50pts selloff for AUDUSD when silver crashed 15%, and while some pre-FOMC meeting dovishness stalled the USD's bounce in Europe, this morning's Fed announcement has now dampening broad risk sentiment. Again, why did they have to announce this today, when they meet tomorrow? Traders are expecting -2.0% QoQ and -0.4% YoY for tonight's Q2 CPI report out of Australia at 9:30pmET.
AUDUSD DAILY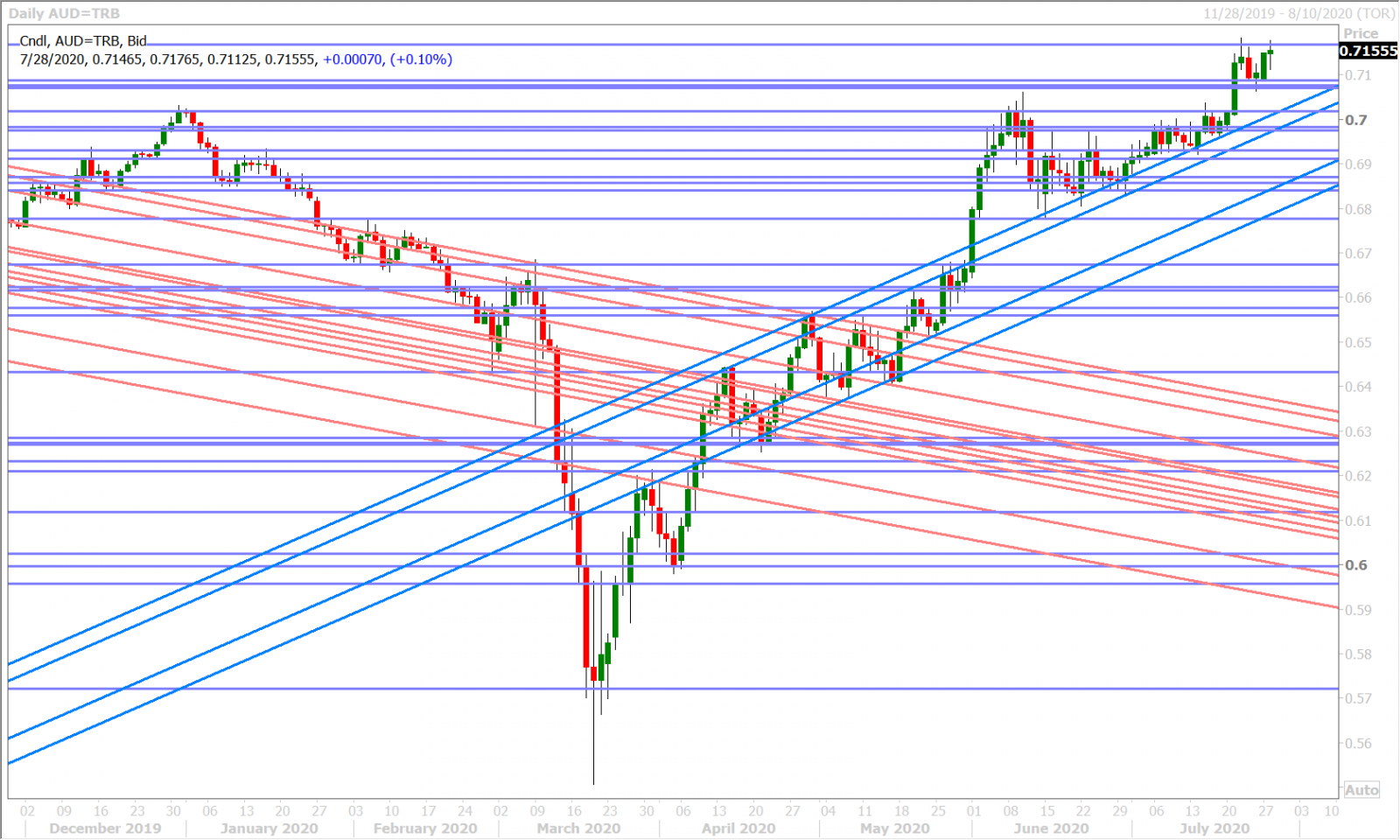 AUDUSD HOURLY
USDCNH DAILY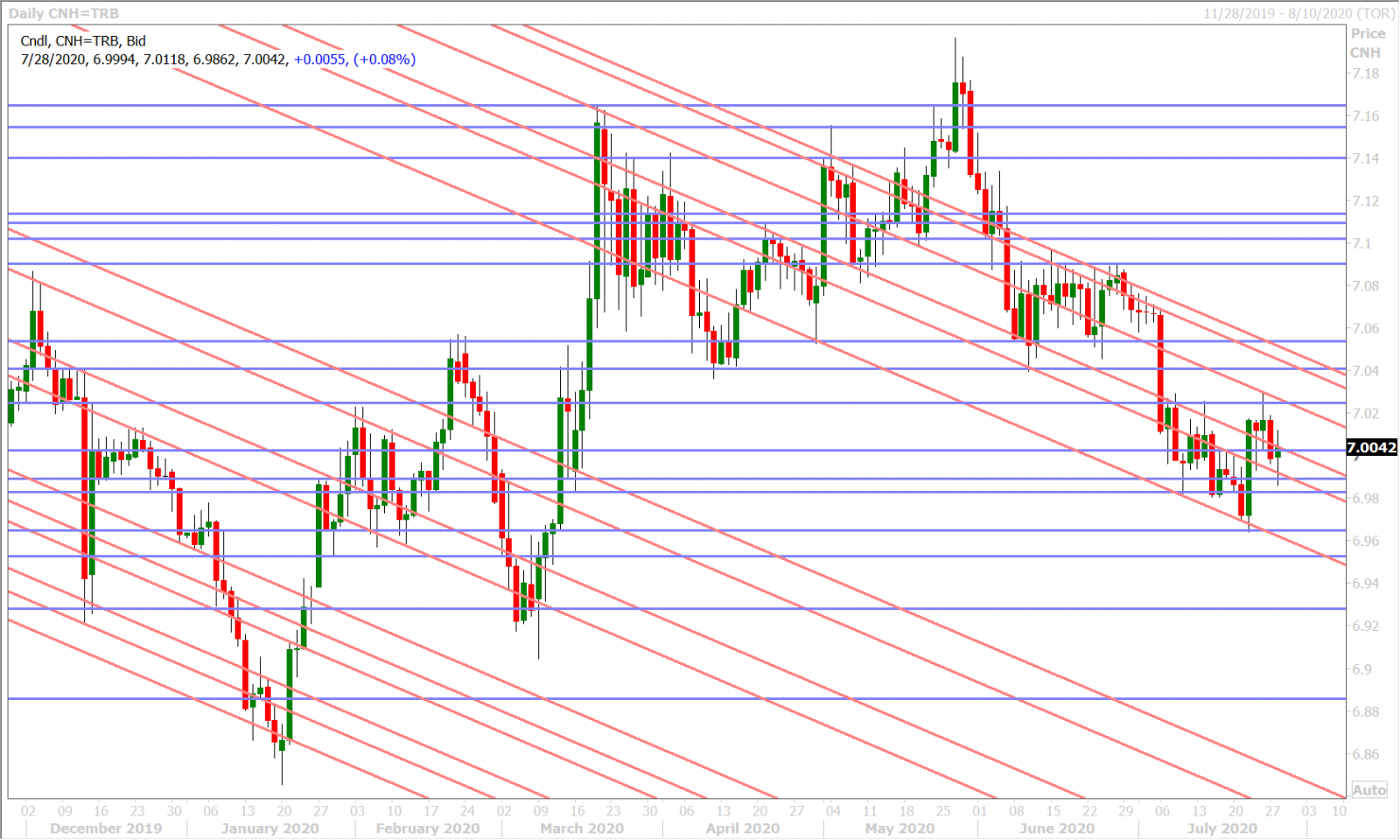 ---
USDJPY
Dollar/yen traded higher with the broader USD during late NY/Asian trade yesterday, but we've noticed an increased positive correlation with global bond yields ever since the European open today. German bund and US treasury yields have moved swiftly lower and this has coincided with strong USDJPY selling right after the pair stalled at former support turned resistance in the 105.60s. What's the bond market trying to tell us here? Perhaps we will get a dovish surprise from the Fed tomorrow?

USDJPY DAILY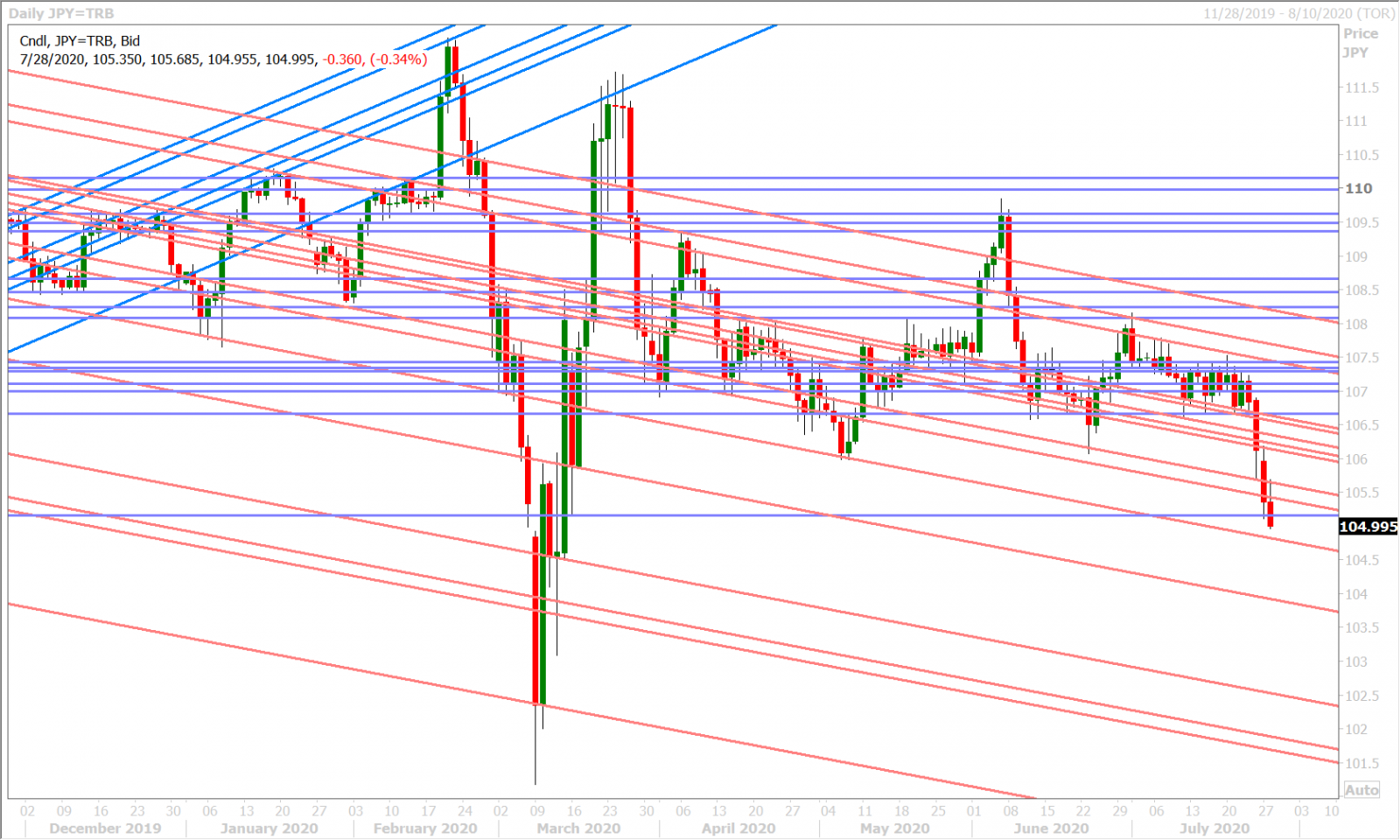 USDJPY HOURLY

US 10-YR YIELD DAILY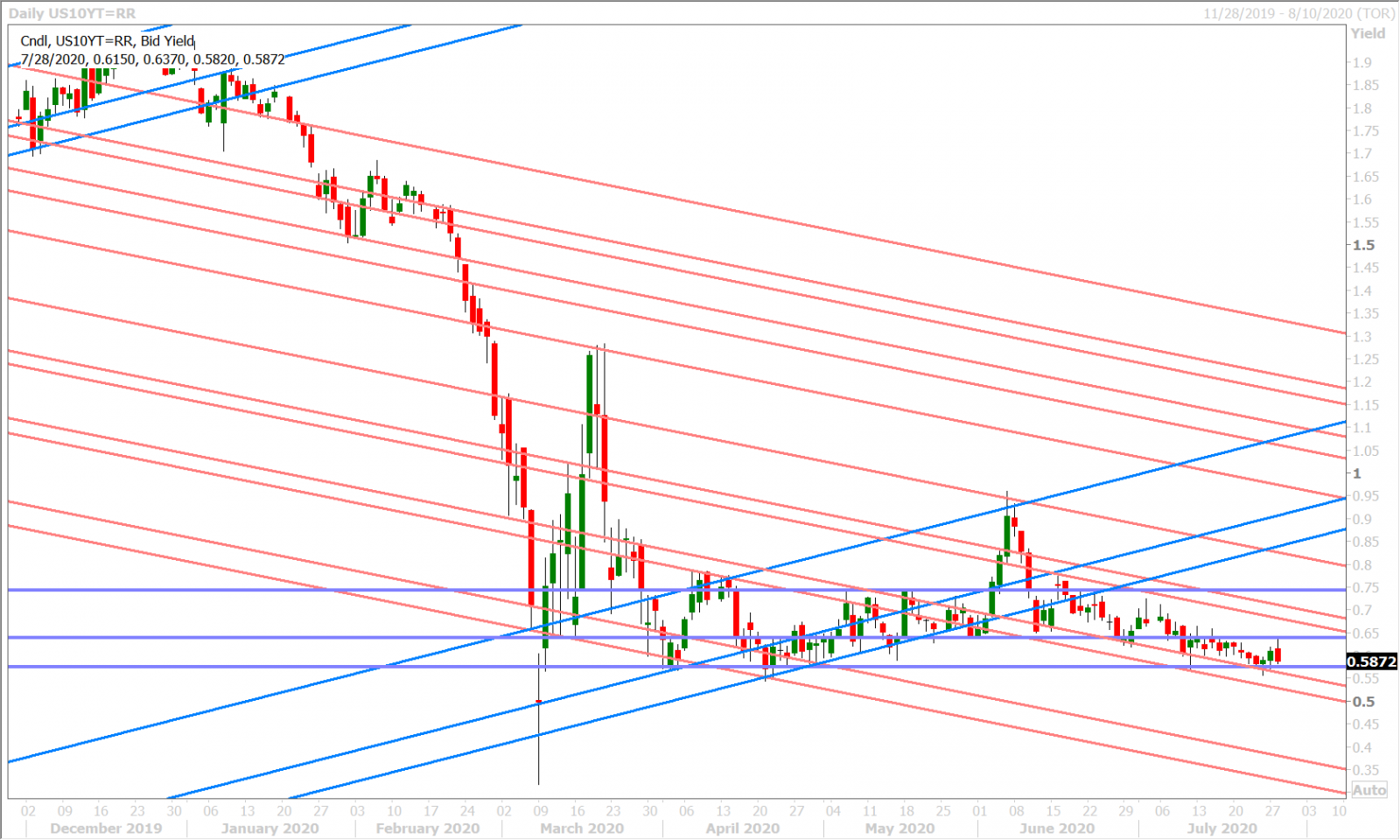 Charts: Reuters Eikon
---
About the Author
About Exchange Bank of Canada
Exchange Bank of Canada, EBC – Canada's Foreign Exchange Bank, is the only Schedule 1 Canadian bank specializing in foreign currency exchange and international payments for financial institutions and corporations. EBC provides innovative foreign exchange management and integrated international payment solutions tailored to meet business needs on a global scale. Leveraging industry leading technology and a client-focused team of experts EBC delivers comprehensive, cost-effective and trusted payment processes and foreign exchange currency solutions to create financial and operational efficiencies. To learn more, visit: www.ebcfx.com.
This publication has been prepared by Exchange Bank of Canada for informational and marketing purposes only. Opinions, estimates and projections contained herein are our own as of the date hereof and are subject to change without notice. The information and opinions contained herein have been compiled or arrived at from sources believed reliable, but no representation or warranty, express or implied, is made as to their accuracy or completeness and neither the information nor the forecast shall be taken as a representation for which Exchange Bank of Canada, its affiliates or any of their employees incur any responsibility. Neither Exchange Bank of Canada nor its affiliates accept any liability whatsoever for any loss arising from any use of this information. This publication is not, and is not constructed as, an offer to sell or solicitation of any offer to buy any of the currencies referred to herein, nor shall this publication be construed as an opinion as to whether you should enter into any swap or trading strategy involving a swap or any other transaction. The general transaction, financial, educational and market information contained herein is not intended to be, and does not constitute, a recommendation of a swap or trading strategy involving a swap within the meaning of U.S. Commodity Futures Trading Commission Regulation 23.434 and Appendix A thereto. This material is not intended to be individually tailored to your needs or characteristics and should not be viewed as a "call to action" or suggestion that you enter into a swap or trading strategy involving a swap or any other transaction. You should note that the manner in which you implement any of the strategies set out in this publication may expose you to significant risk and you should carefully consider your ability to bear such risks through consultation with your own independent financial, legal, accounting, tax and other professional advisors. All Exchange Bank of Canada products and services are subject to the terms of applicable agreements and local regulations. This publication and all information, opinions and conclusions contained in it are protected by copyright. This information may not be reproduced in whole or in part, or referred to in any manner whatsoever nor may the information, opinions and conclusions contained in it be referred to without the prior express written consent of Exchange Bank of Canada.